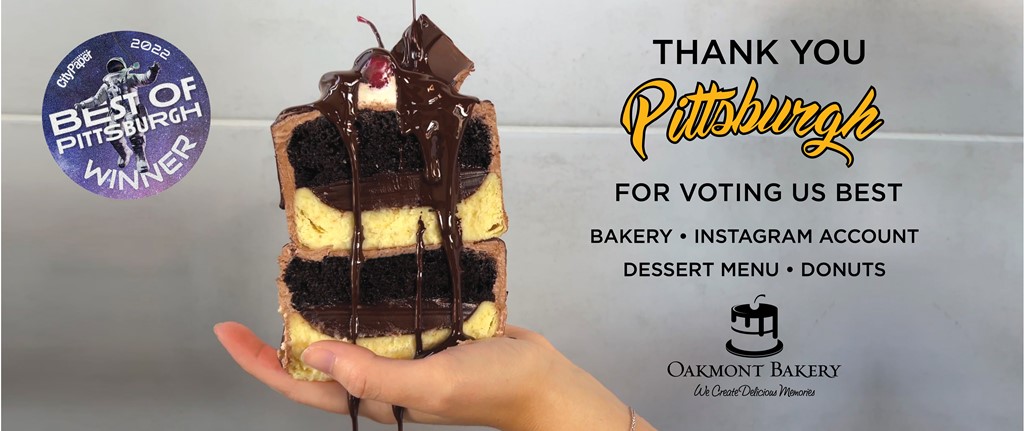 SPECIAL AWARDS AND RECOGNITION




WE HAVE BEEN HONORED TO RECEIVED THROUGH THE YEARS
•  2022 BEST OF THE BURGH "BEST BAKERY" PITTSBURGH MAGAZINE •
•  2022 BEST OF THE BURGH "BEST DONUTS" PITTSBURGH MAGAZINE •
•  2021 BEST OF THE BURGH "BEST BAKERY" PITTSBURGH MAGAZINE •
•  2021 BEST OF THE BURGH "BEST DONUTS" PITTSBURGH MAGAZINE •
•  2020 BEST OF PITTSBURGH "BEST BAKERY" CITY PAPER  •
•  2020 BEST OF PITTSBURGH "BEST COOKIE" CITY PAPER  •
•  2020 BEST OF PITTSBURGH "BEST RESTAURANT (EAST)" CITY PAPER  •
•  2020 BEST OF PITTSBURGH "BEST PLACE TO BUY YOURSELF HAPPINESS" CITY PAPER  •
•  READERS' CHOICE 2019 AWARD - TRIB TOTAL MEDIA  •
•  2019 BEST OF PITTSBURGH "BEST BAKERY" CITY PAPER  •
•  2019 BEST OF THE BURGH "BEST BAKERY" PITTSBURGH MAGAZINE  •
•  2019 BEST OF PITTSBURGH "BEST PLACE TO BUY YOURSELF HAPPINESS" CITY PAPER  •
•  2019 BEST OF THE BURGH "BEST DONUTS" PITTSBURGH MAGAZINE  •
•  READERS' CHOICE 2018 AWARD - TRIB TOTAL MEDIA  •
•  2018 BEST OF PITTSBURGH "BEST BAKERY" CITY PAPER  •
•  2018 BEST OF THE BURGH "BEST BAKERY" PITTSBURGH MAGAZINE  •
•  2017 BEST OF PITTSBURGH "BEST BAKERY" AND "BEST DESSERTS" - PGH CITY PAPER  •
•  READERS' CHOICE 2017 AWARD - TRIB TOTAL MEDIA  •
•  BEST OF 'BURGH - PITTSBURGH MAGAZINE  •
•  BEST OF 2017 - WWW.BORROWEDANDBLUE.COM  •
•  2013 "AMERICA'S BEST BAKERIES" - BAKE MAGAZINE'S  •
 •  2010 RETAIL BAKERY OF THE YEAR - MODERN BAKING  •
 •  2009 LEADERSHIP AWARD - MERCHANDISING MODERN BAKING  •
We are so blessed as a family to serve you and to do what we love each and every day together
 - thank you!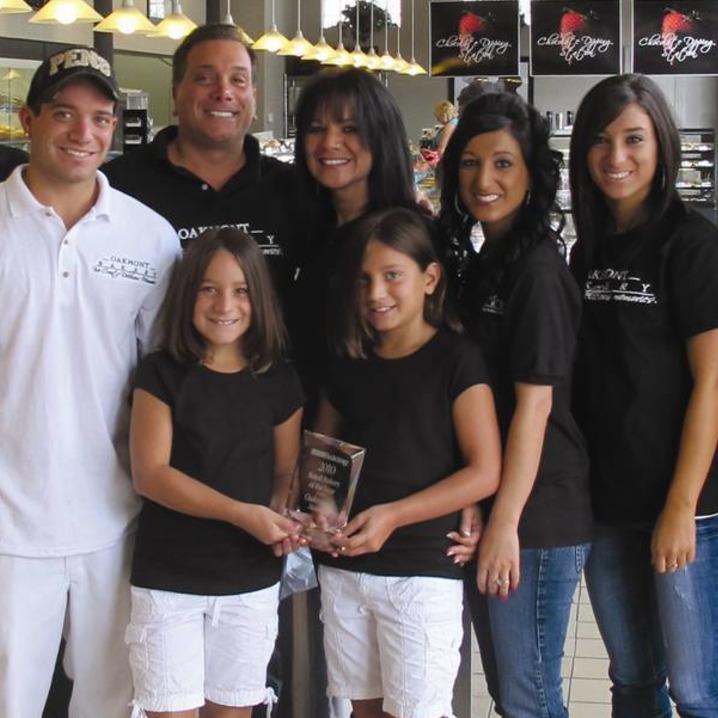 Marc and Susan Serrao started Oakmont Bakery in 1988, establishing themselves as the town's only full service retail bakery. They began with 1,200 square feet, 2 children and a big dream. Since then, their space has dramatically expanded to over 12,500 square feet, making Oakmont Bakery one of the largest retail bakeries in America, their family has more than doubled, adding 3 more children, and their dream of owning a successful business that will serve Pittsburgh and its surrounding communities for generations to come has been realized.
The bakery was established on firm Christian beliefs and an absolute dedication to excellence and integrity in all areas. In 2010 Oakmont Bakery was honored to receive "Retail Bakery of the Year" by Modern Baking magazine - the most prestigious award in the retail bakery industry given to only one bakery in the country each year. Marc and Susan attribute their success first to their strong faith in God, and then to their superior product, hardworking staff and loyal customers, for all of whom they are deeply grateful.
Marc and Susan are blessed to work side by side with many of their family members to provide a positive working environment where lasting relationships are formed. They consider it an honor to serve Pittsburgh with the outstanding products that their talents, hard work and dedication have created. And finally, it is their pleasure to Create Delicious Memories for you!